Apologies for my lapse in blogging. My last couple of blogs over Xmas and January talked about how things weren't quite going the way I'd hoped. A poor race at Ribble Valley, a DNF at Nos Galan and a DNF at the RAF XC Champs forced James and I back to the drawing board. It was hard to figure out exactly what was going wrong but we figured that it was likely that I was still fatigued from Doha. With London not too far away and still the main goal we decided to take an easy week and then get back to full training whilst taking more care to do the little things that make the difference like eat and sleep better.
Not long after getting back into the full swing of training I was able to see where I was at and whether I was feeling better with the Inter Services Cross Country Champs and Armagh 5K coming up. Despite being back to back I always planned to do the both as Armagh is such a quick course and sometimes it's worth throwing your hat in the ring.
The Cross Country Champs were hosted by the Navy this year at HMS Raleigh over a hilly and horrendously muddy 10k course. Going into the race I had told myself that the aim was just to score as best as I could for the RAF whilst trying to leave something in the tank for the following day. After a slow first lap, James Bellward and I moved to the front. We ran together up to the halfway point until he got a gap on me through the woods. Once that gap opened there was no looking back for James. There were two thoughts running around my head over the last couple of miles. The first was 'you're being sensible, the RAF just need to win the team event and we're both part of the same team, also I need to be ok for tomorrow.' The second was 'if I'm completely honest, I couldn't have gone with that pace regardless of how much I wanted to'. James went on the take a well deserved Inter Services title with myself second and then a good battle for the 3rd as the Army's Paul Molyneux outkicked Luke Pollard, RAF. With other RAF runners placing well up, the job was done and we took the title for the 8th year in a row.
The next morning as I headed to Bristol airport to fly out to Armagh my legs didn't feel too bad thanks to a good long cool down the day before, some stretching and plenty of food. That said, I was aware that come the race it could be a different story.
As we stood on the start line I looked around to notice so many familiar faces and that as always, it was stacked! The course is made up of 4 and 3/4 laps. It's pretty flat which is why it's so quick but it also gets ridiculously congested, especially with a few tight corners in there. From the off it was carnage. I'm pretty sure I ran the first 2k with high knees in an attempt to avoid clipping anyone or getting taken down by someone behind me. Up until 4K it was a case of being passed and passing masses of people. The legs were feeling ok though and I was well on for a pb which was a shock. The last k was a painful one, but with the help of so many familiar faces dragging me round I was able to come home in a big lifetime best of 14.44. This was only good enough for 56th which just shows the depth of this great race.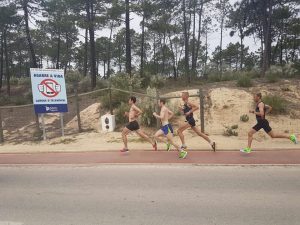 Following the trip to Armagh, I had a couple of days at home before heading out to Monte Gordo to get a good weeks training in with my good friend Robbie Simpson. There was already a huge cohort of great athletes out there which for someone like Robbie who's been there for more than 10weeks, it's ideal as it makes the sessions a lot easier. Marathon training is always gruelling but it's made a lot easier when done in good company. I got some good runs in with David Vernon and Martin Cox whilst doing almost everything else with Robbie. This is included 4x4k reps on my second day there (5 for him) and then 12x1k at the end of the week at an average pace of 2.57 (Robbie, Marius Ionescu and Roy Hoornweg knocked out 15 reps with a 2.42 last rep as well!)
Training in some warm weather and in good company seemed to do the trick as 5 days after flying back to the UK I managed a 10K PB of 30.49 at a very wet Trafford 10K. Hats off to Dave Norman who once again put on another momentous event with a sterling field. Two weeks after Trafford I travelled to Fleet Half with the hope of retaining my title for the third year in a row.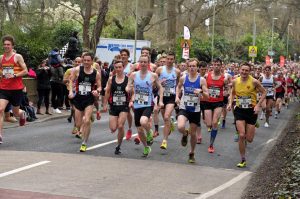 From the gun the pace was pretty swift, partly because the wind was behind us but also because I got a little carried away. As I passed through 4 miles in 19.59 I found myself clear of second place. The pace dropped as I moved along the course and into the wind on the country roads. At mile 10, running straight into a head wind really proved to be a challenge both mentally and physically, especially as I realised that any chance of a PB had now gone. The thought of the win pushed me on though as did the thought of the bigger picture and how this was good preparation for London. After being greeted by a great crowd in the centre of Fleet I came home in 67.20 to take the win, also securing the Inter Services title. With James Bellward coming home in second in 69 minutes we were also able to secure the Inter Services team title.
Last Saturday was my last run out before really easing down for London. This time I was competing for Cardiff AAC at the 12 stage National Relays. Despite missing a few key players, we had a strong team out. Big runs from Matt Clowes on leg 1 and Tom Marshall on leg 2 made life a lot easier for me on leg 3 as I started off with a decent lead. I say it made life easier, it also added a fair bit of pressure as I didn't want to lose that lead. It certainly meant that the long drag to the far entrance of the park (for those who know it) seemed to last for ever. After holding the lead till leg 6 we eventually came home in 10th place. After having a close battle with Swansea at the 6 stage last year it was obvious that they would be a force to be reckoned with, and that they were. They came home to take the title with a huge 4-minute lead! A huge congrats to all involved.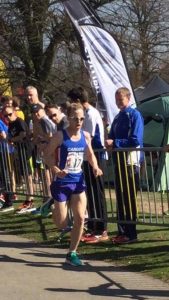 Now I've just got to keep my head down, fuel up and make sure I don't throw myself on the floor or end up in hospital and I'll see you all on the start line at London.