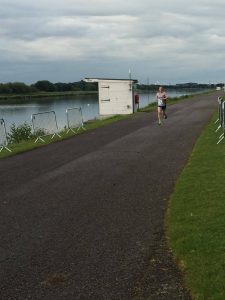 Sorry it's been a while since I last posted. Here's an update on what's been happening since London. The weeks following the marathon really had been hit or miss. As I said in my last blog, I was feeling recovered initially and was getting back into training nicely. It goes to show that you can never quite know what's going to happen post marathon and when you fall apart, you really fall apart.
The first interruption of training was a nice dose of tonsillitis. I reckon my immune system must have taken a battering whilst in hospital and once the marathon was complete and the adrenaline had worn off it all caught up with me. After a few days off, I was feeling right as rain though and back to it.
I planned to kick-start my season with a run out at Manchester 10K. I went into the race hoping to commit and post a good result with so many brits missing from the line up following Highgate 10000m the night before. I was particularly keen to rewrite my 10K pb which is now 78seconds slower than I thought it was 2months ago as well.
Anyone who knows the course knows it's a quick first couple of K and it's easy to get carried away. Surprise surprise, that's exactly what I did. I found myself going through 3K in 8.51 before we started to head up the long drag. The pace was overly ambitious though and from 3K onwards I found I was out the back door. I came home in 20th place in 31.41.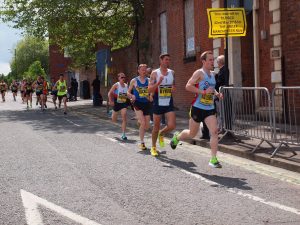 I'd be lying if I said it wasn't a frustrating result but with the marathon still in my legs and nobody to blame but myself I pushed it to the back of my mind and decided to focus on the BAL 5000m a few weeks later. Only a few days after Manchester, I found a hamstring niggle I had started to get increasingly worse. After visiting the chiropractor, it became apparent that I'd trapped a nerve when I fell a few months ago (I'm never doing a parkrun again). Since then I've been trying to release it with help from the Chiropractor, some exercises and stretching.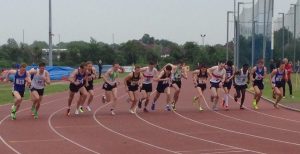 A few weeks ago it was off to Bedford for the 5000m. For a league 2 race it was pretty stacked and full of familiar RAF and Welsh faces. Running alongside Mike Kershaw, the aim was to try to get as close to 15minutes as possible. Tucked into a big group, we passed through the first K in 2.57, 2K in 5.56 and then 3K in 8.57. From here the main group we were tucked onto broke up and I found myself tucked onto a group led by Ben Livesey. I felt great in myself but at 3500m I found that my hamstring was really starting to tighten again. I held on for as long as I could passing through 4k in 12.02. With a lap to go, I was running on my own trying to hold a decent pace whilst resisting the urge to step off to stretch my hamstring. With 300m to go fellow Welshman Marc Hobbs did what he is renowned for doing and put in a huge kick to run away from me as did Matt Janes. The end result, 15.06. A track PB. I'll take that with all things considered.
With a couple more weeks of training under my belt I toed the line at Nottingham 10mile last week. The course is fast and the standard was high. I set off with Toby Spencer, Allistar Watson, and Russ Best. The three split through halfway just outside 24.30. After passing through the first couple of miles with them I realised that the pace was too quick for me so I ended up dropping off. It took a little while to settle down but after passing through 7miles I found myself starting to feel good and I started to close down Russ who was in third place. He was still running strongly though and I ran out of road so had to settle for 4th place in 51.36, 3 seconds behind 3rd. It was pleasing to be feeling strong again, just in time for a big block of training too as I recently received news that I'll be running as part of the British team in Doha at the a World 50K Championships again alongside fellow Welshman Andy Davies as well as Stu Robinson and Ross Houston. I really enjoyed the experience last year and look forward to working towards the Championships in November.
Thanks for reading.