Before picking the mileage back up and hitting a solid build up for the World 50K Championships, James and I agreed to have a go at some of the shorter stuff. We were particularly looking at the 5K as I never seem to do one when training is going well.
First up was the RAF 5000m Champs at RAF Cosford. I decided to run this hard and took it out from the gun but found myself running into the wind on my own. After splitting through 2K in 6 minutes the conditions got the better of me and the pace dropped. It was a solid solo run though and I took the win in 15.16.
Only a few days later it was then on to the Lancaster 5K. As all athletes know, sometimes life takes over and the day before the race was spent sat in a van for 8 hours as I moved up to Leeds. The Saturday was then spent unpacking and sorting out the flat. This added to the poor conditions meant that I toed the line on the Saturday evening with very little expectation. As always, I threw away the watch and told myself that whatever happened, I just wanted to have a good run out. With many good athletes appearing on the start line it seemed likely that the winning time would get close to the course record of 15.08 which was held by fellow RAF athlete Matt Whitfield.
The pace was fierce from the gun as Marc Brown lead it out and I then took it on from 1k in. Between 3 and 4K I felt my legs start to tighten and dropped off of the back of the leading two. I was able to hold it together though and came home in 14.57 in 3rd to break 15minutes for the first time ever. The winning time and new course set by James Douglas was 14.47. After a tough few weeks of racing and training, to run a pb was just what I needed.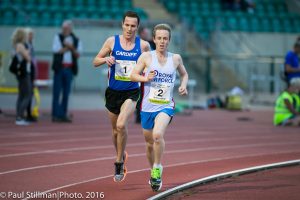 Last Saturday I was back on track, this time for the Welsh 10000m Championships. Carwyn Jones and I (now better known as batman and robin – see the end of the article for further details) agreed to alternate laps to try post a solid time, especially as up to this point Carwyn's track pb was 34mins whilst mine was 32.48. The pace over the first few laps was slightly irratic. I took the lead from the gun, running the first lap in a 73. Carwyn then threw in a 68seconds lap. Although we split a decent 6.02 at 2K, the pace didn't continue as the windy conditions at Leckwith took their toll. At 3k, Carwyn got a slight gap on me. It was around this time that I also started experiencing issues with my left hamstring as I always do on the track. With 1K to go I was able to pick it back up again and finish 2nd to Carwyn in 31.30 (winning time 31.21).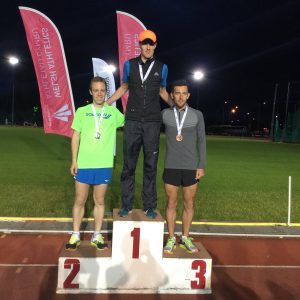 Finally, a couple of days ago it was back to RAF Cosford for the Inter Services Championships. With the Inter Services cross country, half marathon and marathon titles to my name I desperately wanted to take a track title. With Paul Molyneaux and Ben Livesey present it was going to be far from easy though. Ben had beaten me over the 5000m at the British Athletics League the other week whilst Paul has been consistently knocking out strong performances on the track. Paul was looking for sub 15 and I knew Ben would be running around a similar time. With it being windy I decided I would sit it, something that feels very unnatural for me!
The first lap was lead out by Ben and was a quick 68 seconds lap. We passed through 2K in 6.03 and 3k in 9.11. As we hit 4 and a half laps to go I was debating when to make my move as we were still in a group of 4. I felt good but didn't want to go too early and get destroyed by the wind or leave it too late as everyone know's that my kick isn't the best. With 4 laps to go I risked it and jumped to the front putting in a big enough surge to open up a small gap on the other 3. Paul had been waiting to make a similar move and gave chase. I hit the bell in 13.56. Still hoping for a sub 15 time I pushed on to attempt an ambitious 64 last lap, eventually coming home in an agonising but at the same time pleasing 15.00.82. Unfortunately the ever dominating Army team won the Inter Services Champs. A strong performance in the men's competition saw us finish a close 9 points behind.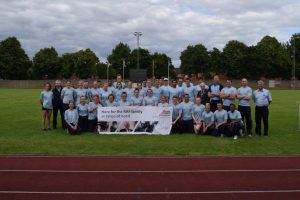 I'm now looking forward to focussing on the road more again and building up to Doha.
Batman and Robin attempt a World Record
– Myself and Carwyn Jones will be attempting to break the superhero half marathon world record this year at the Cardiff Half Marathon on the 2nd of October. We'll be attempting this to raise money for the Rob Bugden Welfare Fund. Rob is a member of the RAF and a very well known international athlete. Earlier this year he was involved in a parachute accident. Rob is making great progress and is a bit of a hero himself so we want to do our bit to support him. Please follow the link for further information. Share the link and any donations would be greatly received, thanks very much!!!
https://crowdfunding.justgiving.com/mickymarathon?utm_id=106&utm_term=m9MR2mkKB