This year my main focus has been (and still is) the road. I've dabbled a bit on the track and enjoyed the cross country season. Last weekend however, it was back to running on the terrain that I love most, the mountain's. Switzerland's 'Sierre-Zinal' race is one of the toughest and famous mountain races going, attracting top level athletes from all over the globe. Starting only a few hundred metres above sea level in Sierre, the 19 mile race has over 2000m of climbing before it finishes in Zinal. Having seen so many friends compete at the event over the years, it was one that I had on my bucket list. James and I agreed that as the race would be roughly 3 hours long it would be good strength training in preparation for Doha. Added to that, we agreed it would be nice to do something completely different, for fun.
With the race being run on the Sunday, Hannah and I flew into Geneva and onto Zinal on the Wednesday with the view to making the most of the trip out there. Zinal is based 1600m above sea level and is one of the most amazing places I've ever seen. During the winter it's a skier's paradise, surrounded by snowy mountains with peaks as high as 4000m. The mountain runner in me was just itching to head up every peak in sight, however it didn't seem like the best race preparation so I stuck with a few out and back, flat(ish) easy runs.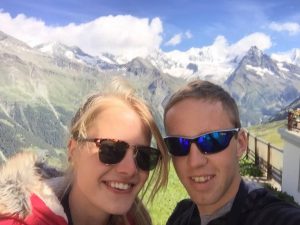 By the Friday, the small town was swarming with great athletes including a number of Brits. It was quite inspiring spending time with all of these guys. Some are living in the mountains and racing across Europe whilst others had been training hard back in the UK. We spent the days leading up to the race zipping up and down the mountains on a cable car to take in the stunning scenery as well as spending one lunch eating cheese (raclette) at the race organisers house where Hannah was serenaded by an elderly man with accordion.  The night before the race we were invited to attend an opening ceremony in Sierre. All of us with elite entries were introduced on stage and we were then given the opportunity to sign our autographs for the kids who had just been competing in some age group races. This was quite a surreal experience especially as I felt very lucky to have gotten an entry at all into such a huge race with so many great athletes such as Jono Wyatt, Marco Dicaspri and our very own Robbie Simpson competing.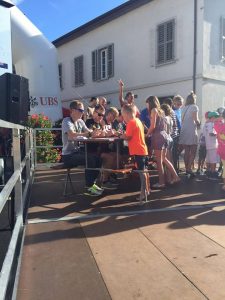 Come race day the weather had really started to improve…from a spectator's perspective that is. For those competing though, the increase in temperature to the mid 20's was a concern. After hearing tales of the first agonising climb that will take over an hour I made the decision to really start off within myself. This was strange as having recently run so much on the roads I was used to starting off fairly fast. With so little hill prep however and having struggled at the British all up-hill trials a few weeks back, I decided it was the most sensible thing.
The first km or so is run along road and it would be quite easy to get carried away here as although you're climbing it's only gradual. As you turn the corner and head onto the trails and up the first steep climb though you'll see why it's important to have started off easy. At this point I was probably down in about 80th position and found myself next to fellow Brit Adam Osbourne. Adam is always strong and had finished well at the British trials a few weeks ago so I figured I'd try to stay with him for as long as possible. We slowly worked our way through the field, eventually catching up with another Brit and a big name on the mounatins, Morgan Donnelly. Together the three of us carried on picking off athletes who had gone off far too hard and we're dropping back. We hit the first water station which was probably about 5k into the race after a whole 30minutes of running. The heat was taking its toll already so many of us took to stopping at the water station, grabbing two or three cups of water/energy drinks (there was even tea available) and throwing it down.
After 58 minutes of running Adam and I found ourselves slightly ahead of Morgan as we came out of the woods and near the top of the tough climb. Beyond this point there was some fairly flat running with a few rises. I really start to struggle here. I'd found a rhythm on the previous long climb but the flat mixed with a few rises now was completely destroying my legs. About 80minutes into the race we dropped down into Chandolin. This acted as a good 'pick me up' as not only was it a nice part of the course but the town was full of hundreds of spectators lining the streets. It was really refreshing to see. Often in the UK, mountain running doesn't always get the recognition and support it deserves when compared to other types of running. Here, however thousands of people lined the course to watch crazy athletes push their bodies to the limits over horrendous terrain for at least two and a half hours.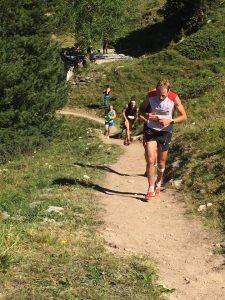 Only a few miles after Chandolin I was relieved to see our support team made up of Hannah and Rachel Friend at the top of a climb with our drinks. Adam and I were sat in about 40th position at this point and the drink I had taken on had given me a new lease of life so I decided to push on. Despite, another big climb up to Hotel Weisshorn the middle section was very runnable and it was here that I found quite a few athletes who had been beaten by the climb combined with the sun coming back to me.
With just over 5k to go you start to descend back into Zinal. I love descending and after hearing that this section was technical I had imagined myself catching a few people at this point. This was far from the case though as two and a half hours of running had now taken its toll. I was now just running to finish. Parts of the course were really too steep to properly 'let go'. After what felt like forever, amplified by a few sneaky rises thrown into the descent I could hear the announcers and so knew I was close to the finish. I hit the road and clocked Tirtha Tamang, a marathon runner from Napal just ahead of me. Chasing him as well as the sub 2.55 time bonus dragged me through to the finish line. I finished in 27th position in a time of 2.53.38 and second Brit.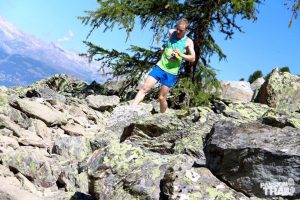 Crossing the line, I felt a great sense of relief and achievement. I don't think I have ever run a race like that and anyone who finishes such a challenge regardless of time should be proud. It was great to then see other Brits who had great races. Superstar Robbie Simpson had a close battle for the win. Being the great sportsman he is he gave his last gel to Mamu who then went on to win the race pulling away with less than 1K to go. Nobody can claim that Rob didn't give it his all though as he had to be moved away from the finish line in a wheelchair! Victoria Wilkinson also had a stormer to come home in 4th place in an awesome time of 3.10. It was also great to see Matt Lockyer having a great race as he came home just behind me in 2.55 as well as Ben Riddell who had a good run finishing in 3hours dead.
I've recovered well since the event and am now back on the roads but the trip most definitely reminded me of why I love the mountains. Post 2018 I will definitely back on it. A huge thanks to the organisers who looked after us so well and put on such a great event.
Thanks for reading