With Doha just under 8 weeks away, training is in full flow with heavy mileage (heavy for me that is) and heavy sessions. I quite like to compete when I can though to keep focussed and because I hate doing tempo runs so what better way to lay down a marker ahead of the World 50K Champs than by doing the Great North Run alongside 56,000 others.
Following Sierre-Zinal I had felt a little tired for a week or so, but a 5K pb at Lancaster's summer series two weeks ago assured me that things were back on track. After seeing the stellar elite field line-up for the Great North I went into the race looking for a fast time. It is however one of those courses where knowing the route definitely helps. I'd been warned by others not to get carried away over the first two miles. With it being mostly downhill it was easy to do, and the 2mile climb from 3-5 could make life very difficult if you went too hard too early.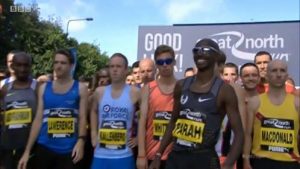 Bearing this in mind, I ran the first couple of miles cautiously (perhaps too cautiously). Passing through the first mile in about 4.48, I was way behind a huge group of British runners that had formed behind Mo's lead group. 2miles in I was completely isolated and was starting to regret having not gone off a little faster. As we passed through 3 miles I was caught by a second group of British runners. This gave me a kick up the bum and stopped me falling into a phase of feeling sorry for myself as I tucked in and they dragged me up the long climb. At this point I could see why I'd received so many warnings about going too hard early on. The arduous climb added to how warm it was meant that we lost a fair amount of time. We passed through 10K in 32.20, far slower than I had intended but ahead we could see the group of British athletes had splintered and were coming back to us. I started to feel good around this point in the race and pushed the pace. As I moved away from the group I was in and passed a few others who were struggling I started to feel like I was running a bit stronger and felt I could claw back some of the time I had lost.
Despite having regained a few places, by 8miles the increase in pace, combined with the continuous undulation took its toll and I really started to feel it. The heat started to really play its part too. We passed by a band playing in the middle of one of the roundabouts around 9 miles in and all I could think about was how I'd like to kick back and chill there. Similar to previous races it was another athlete who gave me the kick I needed. Jack Parslow who had been in the group I was in around 3miles into the race had caught me up and seemed to be going well. I tagged onto the back of him and as I passed through 10miles started to feel like I had a new lease of life. We spent the final few miles increasing the pace and reeling in a few more Brits who were suffering in the heat. After a good sprint finish with Jack I finished in 1.07.43 in 19th place. Although disappointed with the time I was pleased with the overall race position and the effort.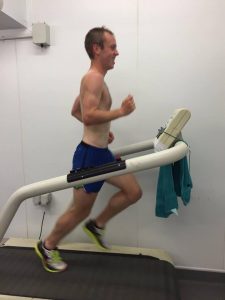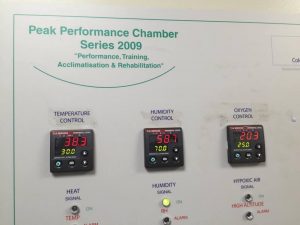 Moving on now, I am really ramping up my preparation for Doha. I have been fortunate enough to receive some great support from Leeds Beckett University as they are helping me with my nutrition (bloody sweet tooth), sports psychology and most importantly allowing me to use their heat chamber.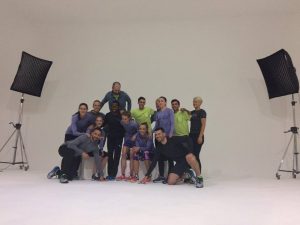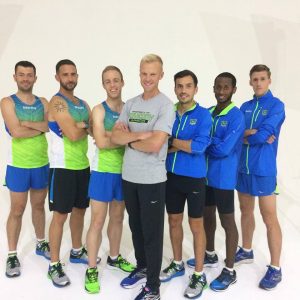 As most of you know as well as being supported by the RAF I'm also lucky enough to be supported by Saucony. Yesterday (Friday the 16th) was spent with the team for the Hurricanes launch. It's a great team, a great brand and I'm looking forward to attacking future races with their continued support.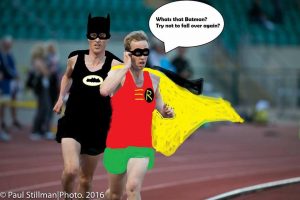 Looking ahead my next race will be the Cardiff Half Marathon. If any of you are competing or watching give Carywn Jones and I a shout (Batman and Robin) as we are attempting to break the World Record for the fastest superhero half marathon to raise money for Rob Bugden. If anyone wants any more information on this or to give a donation please follow the link.
https://www.justgiving.com/crowdfunding/batmanandrobin
Thanks for reading.