Last Saturday, Kat Marshall ran 2:03.9 in Watford, finally breaking the 2:04 barrier after over two years of running 2:04. The very next day, her husband, Tom, won his first British medal, earning bronze in the road mile championships in a speedy 4:02. The couple took their momentum over the channel to Belgium to compete in the Flanders Cup. Kat again led the way, running another PB in the 800m, this time 2:03.20 for fourth, before watching Tom take victory in 3:39.41.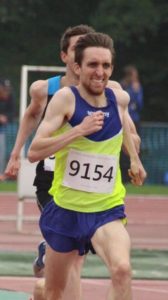 Like his wife, Tom had been stuck at a barrier, trying to break 3:41 since first running it in 2013. The Welsh B standard for the 2014 Commonwealth Games had been set at 3:41.00. That year he won two BMC Grand Prix 1500m A races in under 3:42, once coming as frustratingly close as 3:41.15. What had seemed a natural progression had once again eluded him by the barest of margins and with it selection for the Games.
The effect of struggling with a time barrier in athletics cannot be understated and neither can the relief and momentum that comes with finally conquering it. With it often comes a string of new PBs and confidence in championship racing. For Kat, another 1.7s is required for Olympic selection in the New Zealand team. With the European standard set at 3:38.50 and the UK Olympic Trials (3:36.2 required for selection) less than three weeks away, the Marshall's are coming into form at the right time.
Tom's account of the British road mile championships:
Last weekend saw the annual British Road 1 Mile Championships held at Westminster, London. As with every year, the location and race organisation did not disappoint. The magnificent surroundings of Westminster, the sun shining proud in the sky, and the course lined with eager spectators, most wishing to see the famous 4 minute mile broken. A lot easier said than done on the road! The race was fast. The race was very fast. From the gun. A perfect storm of milers worried about Olympic endurance athletes taking their glory by beating them at what their own game, and of endurance athletes worried about the milers vicious turn of speed in the closing stages. 59 seconds ticked the clock at 400 metres. Nothing in my mind comprehended that it was quick. Full concentration was on the lads in front of me. Constant anticipation of your peers becoming nervous and making moves. Watching every athlete with growing suspense, wondering who and when somebody was going to unleash their arsenal. Then the corner. The corner at 800 metres. I did not catch the clock, because what comes next can only be described as scary. The corner leads to a 700 metre straight, lined with spectators and with interval markers, inevitably counting down the stages that people make their moves. But patience was the aim of the game with the fast first half, so I sat patiently, growing with confidence with each stride. Then the endurance boys went. Roughly 600 to go. They jumped. This was their break for home. Luckily there was enough left in the tank to open up the stride and make sure I didn't miss the break. I can't tell you what happened then, but somehow, I ended up at the front and it was game on. 200 to go. Butchart kicked. I kicked. Goolab kicked. I was beaten. 10 metres to go and I couldn't dig in deep enough to put in another kick. But you carry on fighting regardless! How close can you get to the boys in front of you. A quick glance behind led to the realisation that I had achieved a goal that I have aspired to for years; my first senior British medal. I'd achieved a dream, and it's a fantastic feeling. Now, back to the grind and to see if TeamThie can keep improving with every stride.
Thanks for all the love tonight! Super delighted with 3.39 & more so for @kt_bugz 2.03.2. @SauconyUK @SOSRehydrate pic.twitter.com/IWEm50jUXF

— Tom Marshall (@Marshall17TU) June 4, 2016
Both the Marshall's will be in action at the Welsh Championships, before both heading to Watford for another ride on some momentum.