With the World Half Marathon Championships just around the corner and London Marathon not far beyond that I thought I'd throw together a piece on how things have gone over the past few weeks in the build up to these huge events.
A few weeks ago it was back to RAF Halton for the Inter Services Cross Country Championships. I'm not sure whether it's because I fear being dragged back to recruit training when I'm there but I always seem to run well at Halton and hoped on this day I could continue that.
From the gun the pace was fairly fast going through the first mile in 4.46. I blame Matt Blunden for this! From there I managed to build up a lead on my RAF team mates who were all packing well. After finishing second to Sam Mitchell the year before it was an awesome feeling to take the title. Especially as a few of the RAF's  athletic alumni lined the finishing straight to cheer us in.
With James Bellward finishing 2nd and Matt Blunden and Matt Whitfield taking 3rd and 4th after a good battle, it looked as if we were on track to do what had never been done before, and that was to get the first 6 home from one team. A strong run from Joe Wood from the army stopped that though as he came home in 5th place. With Kieran White and Luke Pollard from the RAF following close behind Joe in 6th and 7th it did mean that we had the second best result ever at the championships. As you'd expect, the best comes from an era that was lead by the likes of Steve Jones and Julian Goater.  With the men's veteran team taking gold, the juniors taking individual gold and silver and the women holding their own against the army it was a very successful day for RAF athletics.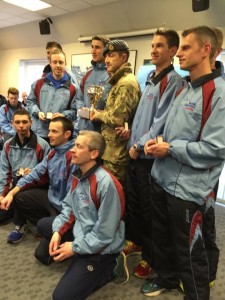 Following the Inter Services and after an unusual few weeks of no racing it was off to Trafford 10k. Unfortunately, like Armagh 5K, as the race produced so many fast times many have started to question its accuracy. In actual fact the fast times across the board that day were due to the fact that it's nothing more than a fast course! Unlike Leeds it's a rolling course which gives you a couple of places to recover from the crazy pace whilst not dropping any time, whilst the climbs there are so short and sharp that they make little difference. Added to that, the conditions were near perfect and Dave Norman organised a stellar field. Knowing it's a rapid course everyone seemed to approach the race with a different attitude to most races today.Many seemed to be discarding their watches and declaring they were just going to strip running back to its basics and run as hard as they could and hang on for as long as they could with the hope of being dragged around for a fast time. As it was, that's exactly what happened. I set off with a chasing group of about 10-15 athletes. The pace was relentless from the gun as we heard the first mile split called out as 4.37. It was great to have Cardiff team mate Ieuan Thomas in the group as well as Stuart Robinson and Phil Sessmann. I was told after the race that we split through 5K in 14.55. At this point I was just hanging on for dear life and taking it one K at a time as every member of the group took a turn to keep up the momentum and hold the pace.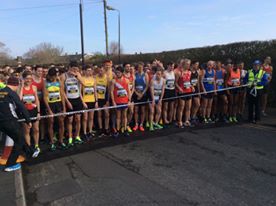 At around 8K the group became splintered and I found myself next to Ieuan. He'd come past me at 6K and had given me the kick up the backside that I needed. As we moved through 8K we heard the split called out, '23.52'. Having split through the same point 25 seconds slower last year I knew this time that sub 30 was on if Ieu and I could just hold it together. With plenty of grimacing as you can see in the pictures, we did exactly that with Ieu kicking away from me (I didn't expect any different) in 29.44 and myself coming home in 29.46.
To say I was delighted is an understatement. It was great to see so many people running huge pb's after putting in gutsy performances. Special shout outs to Stuart Robinson who was rewarded after a strong finish by dipping inside 30 to run 29.59. Also to Kev Seward and Andy Davies who both ran low 29 minutes.  Also a big shout out and thanks to my girlfriend Hannah Bateson who after competing at the Inter Counties the day before had to massage my legs as I was moaning about a few niggles, to then run near her pb at Trafford 10K on tired legs, and then have to treat me again immediately after the race as I continued to moan about a tight calf! Finally a huge thanks to Dave Norman for putting together such a great race.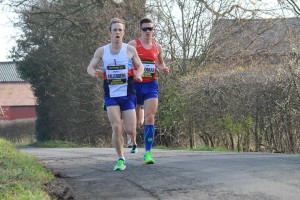 Last weekend it was then onto Fleet Half Marathon which incorporated the Inter Services Half Marathon Championships. After winning it last year and helping the team to team gold it was a race I wanted to do despite only being a week before Cardiff half. James Thie and I talked about it and decided we'd run it as a session starting off at a steady pace and winding it up. The first couple of miles I did exactly that as I ran 5.30's. It felt strange letting the lead group go though and I picked the pace up a little earlier that I perhaps should have running at 5.15's from 3miles in. I was still off the pace though and at 7 miles I found myself a fair distance off the leader Jonathan Cornish As I moved onto the next part of the session and dropped the pace to around 5minutes a mile, he started to slowly come back and at 8.5miles I found myself opening up a lead. From there it was a case of trying to maintain a decent pace but not working too hard with next week in mind. I was delighted to come home to take the win in 67.49. This time was identical my winning time last year but felt a little easier than it had before.
The legs seem to have recovered well and I'm now looking forward to standing on the start line at the World Half Marathon Championships this Saturday in the Welsh vest.
As always a big thanks to RAF Athletics, Saucony UK, SOS and James Thie for their continued support.
Thanks for reading and I hope to catch up with you all soon.