Last Saturday I had the honour of toeing the startline of the World Half Marathon Championships in the Welsh vest alongside a whole host of great athletes. The weather was pretty horrendous with gale force winds and torrential rain but with the event being one of the biggest running events in Cardiff, the atmosphere was electric!
The female competitors for the World Champs set off half an hour before us and then at 1410 those of us competing for the Home Countries were set off behind the male World Half Champs. Whilst stood on the line, Carwyn Jones had turned to me and offered me what should have been simple advice, 'don't get carried away'. A mile into the race I wished I'd listened to him. The pace felt comfortable from the off, but then again, when you're being dropped by 50 athletes, it's not going to seem that fast. In actual fact, we split the first mile in 4.44. Tucked into a group with Kev Seaward, Matt Bond, Andy Davies, Derek Hawkins and Robbie Simpson, we split a fairly similar time for the 2nd mile. It was from this point that I realised I was being overambitious and stupidly allowed myself to get detached from the group.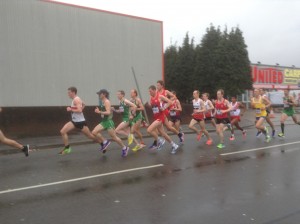 Mile 3 was a bad time to find myself running solo as I ran straight into a headwind. I passed through 5K in 15.45 and the standard thoughts you get when things aren't going right started to creep in, 'that curb looks like a good place to sit down', 'it's not that far to walk back', 'I'd rather be doing anything else right now'. Fortunately, it was at this point that I was swallowed up by a group with a few familiar faces in. Carwyn ran up onto my shoulder and gave me a few words of encouragement as he could see I was struggling. It seemed to do the trick as I was able to settle in with the group. As we ran along the barrage I found the pace was starting to increase as the large group started to fall apart. As we went through 5 miles I once again found myself falling off the back of the group. Fortunately, the pace eased back slightly soon after and by 10K I found myself tucked in with 7 other athletes going through in 31.27.
Finally, I was starting to feel good and by 7 miles I found myself moving ahead of the group with a couple of athletes as we picked up some stragglers from the group ahead. Around 8 miles in, you hit Richmond road and start to head towards Albany road. The atmosphere was amazing here and that along with the gel that Hannah threw at me really started to push me along as I continued on pace for a big pb. We split through 15k in 47.09.
At 10 miles we hit Roath lake which is a part of the course I'm very familiar with having spent the last 6 years doing sessions around there. I started to think back to the two mile rep session I had done around the lake with the group last week and tried to lock into that mind-set. Once again, the support from the crowd at this point was insane and as I headed up the lake I was growing in confidence. It's crazy how quickly that can change though, as we passed through 11miles, we were hit by what were the worst running conditions I have ever run in. Gale force winds smashed straight into our faces as there was a torrential downpour. I'm pretty sure I ran outside a 6minute mile at this point and suddenly went from being well on pace to run a pb to desperately needing to pull my finger out if I was going to run inside 67 minutes. Once again, as it is in such a big event, I was lucky to find myself surrounded by athletes from the World Champs who were willing to push the pace on. After 13.1 long miles my chip time was 66.48, earning me 6th amongst the masses which also included the Home Countries match and 64th overall if you include the World Champs and a new PB.
A huge well done to everyone who took park. Particular shout outs to fellow Welshmen Andy Davies and Dewi Griffiths who had huge runs both running rapid pb's in those conditions. Also Charlotte Arter who ran an amazing debut over the distance in 73 minutes alongside James Thie.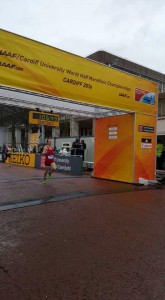 After a few easy days I'm now looking ahead to another big week before tapering down for the biggest race of the year…London Marathon!! Thanks again for reading.