Three weeks on from being unable to walk properly and feeling slightly sorry for myself I find myself in the same situation in that I can't walk properly again, this time however my mind set is completely different. I'm feeling a completely different kind of pain. One that brings with it a great deal of satisfaction. Only a few days out from London the news was announced that Manchester marathon had been short last year. It was short by about 380m which would have seen me run around 2.20.30 had I run the full distance. It doesn't work like that though so going into London my marathon PB sat at 2.25 and I was determined to rectify that. The plan was to head out with Stu Robinson and Steve Way and split through halfway in 69.00 and then try to hang on second half. The only thing is, judging by the way I had felt last week at the 12 stage I didn't know how much 'hanging on' I'd be able to do.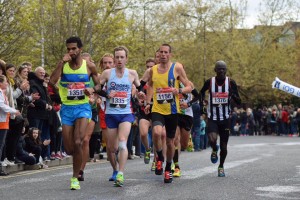 Come race morning there wasn't snow as predicted thankfully. It was bloody cold though and quite windy. It was definitely a day to run as part of a group. From the gun I found myself next to Steve and Stu. The first couple of miles we split through in 5.16's which was on pace for what we had planned but I felt like I was rolling out sub 5 minute miles. With the 3rd mile being a quick one we split through 5K in 15.59 and I started to feel good finally. Things had started to settle. From here to the halfway point a group of about 10 of us including Steve, Aaron Scott, Kojo, and Lee Grantham shared the pace. As we'd hoped we split through halfway in 69.02, and I was feeling great! At mile 14 though I found myself messing around with a gel trying to pull it from my pocket. In hindsight this was probably a bad point in the race to start doing this as I started to struggle. Aaron, Kojo and a few others also put what felt like a slight surge at the same time and before I knew it Steve and I found ourselves off the back. From here it was nothing but hard work.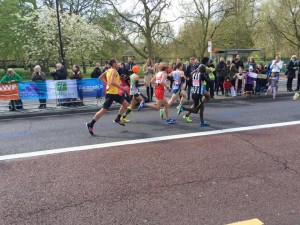 At 20miles I had a second wind and realised I was still on for sub 2.20. This new lease of life didn't last much longer than a mile though as I met the wall at 21 miles and Steve opened up a substantial gap on me. Added to that, my muscles started to tell me that they had been lying dormant in a hospital bed for far too long. My hamstring felt sore and both calves started to cramp. 5.2miles is a long way to go when the wheels start to come off. Fortunately the crowds were amazing and kept me going. They really did drag me round the last few miles and helped me cross the line in a new PB of 2.21.38 which won me the Inter Services title and silver in the Welsh Champs. Added to that, my time was a whole 16minutes faster than three years ago when I ran my debut in London.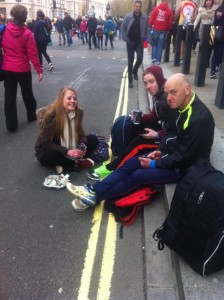 Staggering down to pick up my bag it was obvious that it's going to take a few weeks to recover from this but I'm delighted to have got round at all never mind in a PB after everything that has happened over the past few weeks.
As I said in my status the other day, it's a team effort and there are so many people that played a massive role in getting me there and getting me round. Thanks!