On Sunday, Team Thie athletes Mike Kallenberg and Charlotte Arter will toe the start line in London for one of the sport's biggest calendar events, The London Marathon. Kallenberg will be covering the full 26.2 miles with aspirations of a PB despite a setback that at one point threatened even his participation. Arter has been called up to pace the elite women's field after a string of strong performances.
---
Mike Kallenberg
For Kallenberg, to call his journey to the start line a rollercoaster ride would be an understatement at best. Since the new year, Mike has been rewriting his own records books, both in training and whilst competing. The Welsh international and RAF athlete started the year with a run of unbeaten races that culminated in winning his first inter-services cross country championships in mid February. He would carry this confidence with him to the start line of the Trafford 10K, where he would not only break his PB by over 30s, but join the elite sub 30 minute club, running home in 29:46. Over the next 13 days he ran two half marathons, the latter being the IAAF World Half Marathon Championships where, in horrendously wet and windy conditions, he would shave 16 seconds off his half marathon PB.
Things seemed to be looking perfect in his build up for London, when during a routine Parkrun he used as part of a steady run almost lead to disaster.
The day before the long run I decided to include Lancaster parkrun in a steady run. I hadn't planned on running too hard with the long run in mind the next day but thought it would be fun. In hindsight I shouldn't have stepped outside of the plan but you can never predict when these freak accidents may occur and they can happen anywhere.
In the wet conditions, Kallenberg slipped on corner, landing with a heavy thud on his knee. No stranger to the odd tumble, Kallenberg quickly got back on his feet and was half a mile back into the run when he noticed spectators looking at his leg with a horrified looks. Kallenberg soon found himself in A&E (it should be noted he did finish the Parkrun!) where he promptly passed out.  A few days later, it was determined that his knee needed surgery to clean the wound, which had become infected and his hopes of competing in London seemed shattered.
In a testament to Kallenberg's mental strength, he didn't give up, even going so far as to keep up his strength and conditioning with a hospital bed circuit:
Circuit done on the hospital bed #noexcuses #getitdone @rafathletics @SauconyUK @SOSRehydrate #findyourstrong pic.twitter.com/ouMMqlLOc9

— Michael Kallenberg (@mickymarathon) April 6, 2016
Remarkably, just a few days after the surgery and some more dire news of spreading infections, the knee wound was healing at an alarming rate. Mike found himself able to test it out on a run in a few more days and was pleased to see everything felt OK! The healing and his positive attitude continued and just two weeks after his fall, Mike got round a long leg at the National Road Relays for his club, Cardiff AAC. Whilst not too happy with his performance, it was Coach Thie's response to his complaints that "this time last week you were f###ed" made him realise that he was, despite the odds, back running and London was a go!
this time last week you were f###ed
Now, with fingers crossed for no more freak setbacks, Kallenberg says he is really looking forward to racing against "what is probably gonna be one of the strongest British fields assembled at the marathon in years. I seem to have bounced back from my knee injury ok and hope I'll be feeling fresh from the time I had to have off. I plan to hit it hard and just hope that I'll get dragged around by a group."
Charlotte Arter
In the early summer of 2015, Charlotte Arter packed up what had been the last three years of her life on a scholarship at the University of New Mexico in Albuquerque, NM, USA, and headed back to Britain. She soon found herself back in Cardiff, where she had attended Cardiff Metropolitan University and joined Team Thie.
Now working at Cardiff University (regarding which she jokingly refers to herself as a "traitor") as the Performance Sport Officer, she has settled back into life in Cardiff with success. In January she earned her first GB vest, running for her country in the Great Edinburgh Cross Country International where she finished 6th, scalping many seasoned international athletes over the 6 km distance.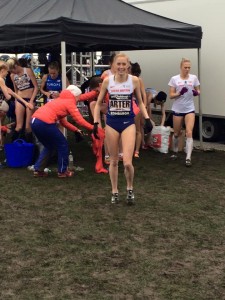 She added a 3000m PB the week before finishing 7th in the same event at the British Indoor Championships. However, her finest achievement this winter was not over the mud or the boards, but on the road. Along with Kallenberg, Arter competed in the IAAF World Half Marathon Championships for her half marathon debut. Rising to the prestigious occasion in style, she ran a staggeringly quick 73:16, which won the masses race and was good enough to finish 2nd amongst the British and top 30 in the World! To illustrate just how fast that is, one would have to go back 5 years to find a year were that time wouldn't rank amongst the top 10 women in the UK.
So when a pacemaker for the London Marathon women's field dropped out, it was Charlotte that stood out on the UK Rankings and Coach Thie was quickly contacted. "They asked me if she would be interested. It fitted with training and it would be a great experience. So we agreed to go to half and 74:00 being the aim."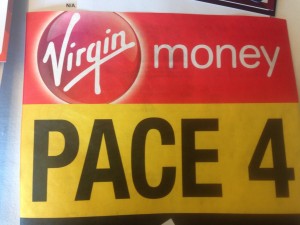 ---
You can watch the Kallenberg and Arter when the London Marathon kicks off on Sunday, BBC One coverage, starts at 8:30am BST. The elite women begin at 9:15am BST with the elite men following at 10am BST.
You can also follow the Team Thie athletes' progress individually by using the live tracking page which will appear on the London Marathon homepage on race day.
Good luck Mike and Char!