After taking a well needed two weeks off after the World 50K Champs during which time I didn't do much more than eat..a lot! I finished the year on a surprising high with a solid 4k time of 11.47 at a festive race in Lancaster and then onto a 5K PB at Nos Galan on New Years Eve of 15.05.
Going into the New Year I knew it was going to be a busy one as James and I had discussed a number of possible races to use as I build up for the London Marathon. First up was the Sir Sefton race at RAF Halton. This is a great race with a wealth of history. The match is run between the RAF, Police, Fire Service and Civil Service and provides an opportunity for RAF athletes to prove to team managers that they're in good shape as we near the Inter Services Cross Country Championships. I had hoped to have a good shot at retaining my title but with Marc Hobbs, Martin Williams, Ricky Lightfoot and team mates Matt Whitfield and James Bellward on the startline I knew I was going to have my work cut out. The course was slightly longer than normal stretching over a distance of 7.5miles which I had hoped would play to my advantage. However a fast start lead out by Ricky left me cursing the fact that we had an extra lap to run. Fortunately, after the first lap of four I managed to get a gap that was big enough to mean that although I was tiring towards the end of the race, I could hold the slight lead I had over fellow Welshman Marc Hobbs. As always, it was a delight to win such prestigious race whilst wearing the RAF vest, but more importantly to see such a great team performances which resulted in victory for the RAF men's team.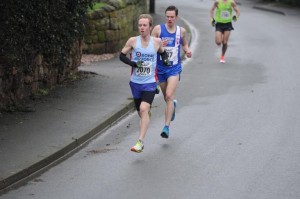 Only three days after the Sir Sefton race I felt my legs could do with a further battering so headed to Helsby to compete at the Four Village Half Marathon in temperatures as low as 0 degrees. Once again, there was a good turnout with Ben Fish, Stuart Robinson and Tarus Ellis all toeing the line. From the gun, Ben, Stu and I broke away from the rest of the field. A mile into the race, Stu found he was still tired from a hard race the previous weekend at the Lancs XC Champs and dropped behind Ben and I. From there, the two of us took it in turns to push the pace and throw in a couple of surges trying to break each other. After splitting through 4 miles in 20.15 I found I was starting to struggle with the pace and just tried to focus on one mile at a time with the hope that if I could hold on to Ben for as long as possible then he would drag me clear of everyone else. Fortunately after 5 miles the course has a few rolling hills which broke up the pace a bit. After splitting through 10 miles in just over 52 minutes I decided that a pb was off the cards but if I could hold onto Ben I could at least secure 2nd. At 10.5 miles there's a lengthy descent which was where I managed to get a slight gap on Ben. Fortunately, it was around this time that I hit a second wind and was able to work well off of the descent to run the last 5k in under 15minutes. Surprisingly I came home in a PB of 67.07 with Ben finishing 2nd in 67.55. It did take me the rest of the day to warm back up but I was delighted and surprised with the result as it's so early in the year. I highly recommend the race to anyone who's looking for a good half early next year. It's really well organised and a great course.
Just under 2 weeks ago it was then back to RAF Halton for the RAF XC Champs. Unfortunately neither Ben Livesey or Sam Mitchell were able to make the race but the field was strong with Matt Blunden and Matt Whitfield (despite now being a vet) finding some good form recently. With the course having been changed back to the traditional 6 mile course of one small lap and two big laps around Halton House I decided I wanted to get out hard to try and establish a gap over the first couple of laps. I instantly regretted that as I dropped around a 4.45 first mile and felt my legs were going to drop off. Fortunately I did manage to keep it together and came home to retain my RAF XC title. It's a great honour to win such a race with the likes of Steve Jones, Julian Goater and other great athlete's names on the trophy.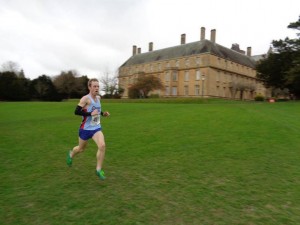 As it was after the Sir Sefton race, I only had a couple of days to recover before I was back out competing again. This time at Alsager 5mile. This flat course attracts a lot of top runners and this year was no exception with the likes of Jonny Taylor and Frank Baddick starting. James and I had planned for me to get out pretty hard and see what I could hang on to. From the gun, Chris Carpanini and I did exactly that and found ourselves leading it out with a large group tucking in behind us. I have no idea of splits as I decided against wearing a watch but I can tell you it was pretty windy (as it often is at Alsager unfortunately as it's quite exposed) and the first mile felt like hard work! After about a mile and a half into the race Jonny got bored and took off taking with him 3 others. As he pushed the pace, the runners that went with him fell back. Despite going through a bad patch at 2miles, I managed to pick it back up to catch one of the runners from that lead group and come home in 4th place in a new PB of 24.47. It wasn't quite as fast as I was hoping or as fast as it felt but I can't argue with a PB this time of year and it's 45seconds quicker than I ran there last year.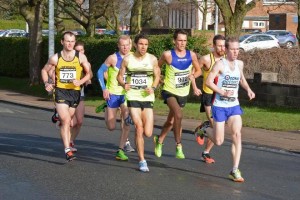 Next up is the Inter Services Cross Country Championships which will be held at RAF Halton again where our strong RAF team will be hoping to retain our title over the Army and Navy.
Thanks for reading