Months of preparation finally came to a head Friday 11th as I stood on the start line to the World 50K Championships alongside Andy Davies, Ross Houston and Stu Robinson as well as a very strong women's team made up of Amy Clements, Samantha Hudson, Rebecca Hilland and Hannah Oldroyd.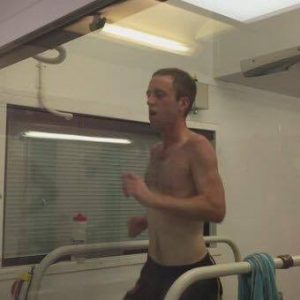 Going into the race this year I felt much better prepared for the hot conditions having done plenty of heat chamber work at Leeds Beckett University. I wasn't prepared however, for how challenging the course would be. Due to work in the area as Doha continues to develop its football stadiums in preparation for the FIFA World Cup in 2022, the course was changed last minute. Rather than being run on a tarmac/cobbled 5k loop, the new course was to be all on cobbles around a 2.5k loop. Wearing racing flats had crossed my mind initially but then after walking the course and realising there was no give at any point throughout the loop I had to rethink this. Fortunately, I'd packed my Saucony Kinvara's which were the perfect pair for the race as they provided plenty of cushioning but are still light and responsive.
Unsure on how we would respond to the heat later on in the race if we went off too hard early on, we all agreed to start off conservatively. As the gun went and the Kenyan, Argentinian, Nigerian and Japanese athletes all shot to the front, we all sat back and tried to find a rhythm. As we passed through the first few miles, Andy Davies' watch told us we were hitting 5.36'. Despite running at what we thought was a decent pace we passed through the first 5k just inside 18minutes. It would later transpire that everyone who wore a garmin would have the course measured at distances ranging from 51.2-51.4k. Whether this is accurate or not I don't know, but as a result of the times and the pace early on we both decided to forget about the watch and focus on simply racing.
Less than 10k into the race, Andy and I found ourselves moving through the field as those who had gone off hard were already starting to suffer from the heat. We were still fairly near to the American's who would eventually go on to finish 1st and 2nd. Andy and I decided to alternate taking the pace at this point, leading a K each as we counted down the laps. As we hit 20k, I found myself drifting ahead. Andy shouted for me not to get carried away as I eased back. 1K later, I was doing the same thing again. At this point I decided that as I was feeling good I may as well go with it so I pushed on. This later turned out to be the fastest part of my race as I tried to reel people in. Over the next 10K I felt great as I caught many of the guys who had gone off to hard, this included the African athletes and the Argentinian that had taken it on from the gun. From what I can gather it was at this point that the American's took the race by the scruff of the neck and started to really push the pace at the front.
Just after 30k, things started to deteriorate as my mind started to play tricks on me. I couldn't quite work out what lap I was on and how far I had left. I knew I was starting to fatigue. Over the next 5K I could see Andy closing the gap to me. As he passed me around 35K, I tried to tag onto him. This lasted for all of 500m. The fact that Andy had pulled away from me so easily made me think I was really dying. To my surprise and relief, I passed through the 15th lap in 9minutes which was fairly similar to what I had been knocking out for most of the race. It turned out I wasn't completely dying; it was more that Andy was flying as he picked up the pace.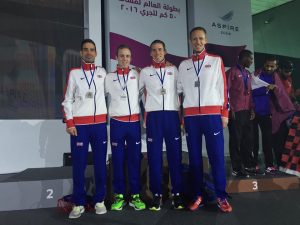 The next 5 laps were agonising and I was worried that I was very close to hitting that self-destruct button. I knew Ross was coming through strong not too far behind me, and I'd also had shouts from the team management to confirm that we were on for a team medal as long as we could hold it together. I expected to drop a little bit of time as I tired but had to try desperately to maintain my focus and try not to end up as one of the guys that had been reduced to a walk or dropping out. With two laps to go, the wheels still hadn't come off but had really start to squeak. Added to that, I couldn't take on board anymore fluids. The amount I had consumed already had left me feeling sick. With a K to go I knew that the gaps ahead and behind were pretty big and we had team silver in the bag as long as we all carried on as we were. Safe in this knowledge I started to sit back, just trying to make it to the finish. As I hit 500m to go the last thing I wanted to do was sprint. My dad was at the side though screaming that if I wanted to get inside 3 hours I needed to 'move my arse'. I hadn't even thought about the time until that point. To people watching, my attempt to sprint in must have looked horrendous but somehow I did manage it and came home in 6th in 2.59.29, 1 minute behind Andy in 5th and 2 minutes ahead of Ross in 7th. A little further down the road then was Stu Robinson rounding up a strong team in 11th position.
The next couple of hours were a bit of a blur as I sat in doping control for a long time having filled a sample tube 2ml short. It didn't matter how much more I drank; I was going to have a long wait!
The next day, once the results were confirmed, we were proudly able to help each other onto the podium (we needed to help each other) to receive our team silver medals. To add to this, we also got to watch the British Women who had run so well receive Team Gold.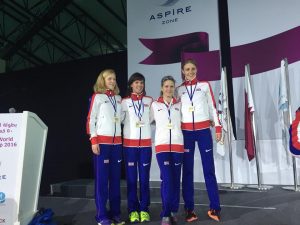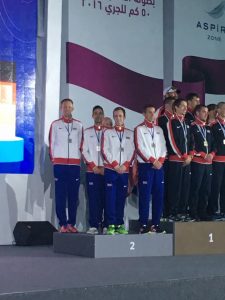 I'm now enjoying a couple of easy weeks and am able to reflect on a successful race which is always nice. Thanks to all those who supported me in getting me to the race and during the race. Particularly to the Leeds Beckett guys who helped with nutrition, sports psychology and heat chamber work, all the guys at RAF Athletics, Saucony UK, SOS and my coach James Thie and all at Team Thie. A massive shout out to the team management who were brilliant, as well my dad who did his bit on the water station.